2020 has been a simultaneously tragic and exciting year. It's difficult to know how to feel about it.
Amidst the chaos of businesses crumbling and evolving or being born; in between the personal lives torn apart by loss and relationships stretched to the max – this year has taught us one very obvious thing – there are so many different ways to be kind that can counteract some of the heartache.
We started this year with a lot to accomplish and at Just Williams we had BIG plans for growth. Part of this 'masterplan' was to keep fundraising in aid of The British Heart Foundation. But throughout lockdown and seeing so many communities pulling together for their own causes we knew we wanted to spread our wings a little more too. So, broadened our horizons and spread a little more kindness where we could.
In the last few months, we have already smashed our (twice updated!) fundraising goal for the BHF, but we have also looked a little closer to home to our local communities too. We pledged donations to The Trussell Trust after seeing the impact of hunger on families during the pandemic; knowing that their foodbanks would help support those in need. We did this by donating proceeds from our online webinars launched during lockdown so whenever someone joined our training, not only did they leave with great tips and skills – they helped to serve up a great dose of kindness too.
Similarly, we made a donation to the fabulous Billingham Synthonia Ladies Football team as well as supporting the ongoing growth and generally 'awesomeness' of The Girls Network by part-sponsoring their membership fees to the North East of England Chamber of Commerce and becoming Mentors on their programme. Amidst all of this we made sure we stayed in touch with our clients regularly, we sent each other thoughtful care packages to let each other know we were thinking about them. Generally, we stayed connected and that was most important of all.
Although times are difficult, we don't know what each day will bring – what we have learned is the best thing we can do is stay connected. Connected to our businesses, to each other and to our Communities too – and that is something that will stay, long after Covid has gone.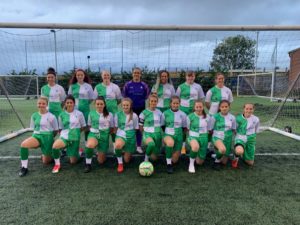 Above: Billingham Synthonia Ladies Football team – go on girls!