Communicate PLC's Reaction to Supporting Their Clients During COVID-19 Pandemic.
It's not news to say recent weeks have been challenging, or that we're all having to adapt to a 'new normal' whilst the COVID-19 pandemic rages on. But, we were interested to know how some companies have managed the changes, and how they've evolved during this crisis.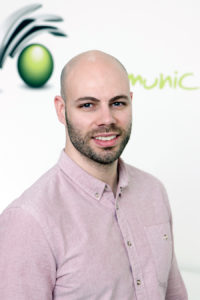 Speaking to Chris Mullen, IT Infrastructure Manager of Communicate PLC, we asked him how this massive change to life and business has affected Communicate what they were doing for their clients. Very simply he said; "Just look after them". Knowing that most businesses were going through a period of panic or upheaval with the movement to working from home, Communicate has worked hard to make sure that their clients have as seamless a transition as possible.
Chris said; "We saw a massive increase in demand from our existing customers at the start of the lockdown in the UK. They needed to be instantly remote, so we set to work in making that happen". With many businesses using desktop PCs, fixed landlines etc their task was not a small one; but one that they more than rose to the challenge on. Often working until 9 or 10 o'clock at night, Chris and the rest of the team made sure that where possible organisations could continue to function; setting up VPNs, redirecting telephone lines, establishing profiles on laptops etc.
This continuation of functionality meant that their clients could keep going; to keep managing their day-to-day business as well as keeping their staff safe working from home. Chris said; "We tried to put ourselves in our client's shoes – how would we want to be treated if roles were reversed? And we knew that we would want our issues resolving as quickly as possible – so that's what we did. Working later hours during those first few weeks meant that our clients got what they needed – and that's so important to us; so we just did it". It's clear that their clients have felt the benefits of their commitment too, with many taking time to leave glowing reviews of the business on Trust Pilot.
Looking to the future we wanted to know whether or not the Communicate team expected remote working to become more of the 'norm' than before; or if we would ever go back to the way we used to work completely. They said; "We think most companies will adapt to more home working; it makes sense when you can prove it has worked. But it will only continue to work if a company's support system is robust and can support that in an ongoing way. That's why were so proud of our staff and services because we know it works; we know that it can help companies grow and be connected effectively – but also safely".
We don't know what will happen in the coming weeks as the pandemic continues, but what we do know is that the team at Communicate are working hard to help their clients keep going. And in the grand scheme of things, that is an exciting prospect. If you are looking to discuss your IT, telecoms or network systems, or cyber security, you can learn more about Communicate here www.communicateplc.com
Communicate Technology PLC offer a range of IT, telecoms, network and cyber security services and products. Based from their Head Office in Wynyard, Teesside; Communicate PLC has a national presence with offices across the country.