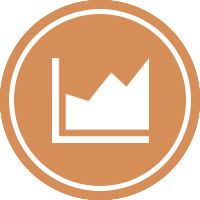 Hybrid
Overview
The Just Williams team will work with you to plan 12 months of activities designed to grow your business in the way you want. The unique blend of co-existing Sales and Marketing strategies that are aligned with each other create the opportunity for targeted expansion.
Sales
Sales activities will include an in-depth Competitor Analysis to focus on your key rivals in the field. Haven't identified these yet? We can help there.
CRM and Data Audit – a key priority in any successful sales activities. Our team can either help establish a robust CRM to help maintain data, leads, deals and more or help support the delivery of best practice on your existing system too. We work with a wide range of platforms, so our knowledge and skill is extensive. This process will also include the opportunity t review the quality of the data you are storing – is it the right information for your growth plan to utilise?
Working with you, we will help identify or formalise a range of Client Profiles aligned to your ambitions and opportunities. We will focus on your 'non-negotiable' elements and create highly focussed profiles that will form the basis of introductions to key clients later.
Building relationships is pivitol to sales successes. We will establish and nuture key partnerships that will support the sales activities and position the company with strength and authority.
Identifying key prospects is undertaken with extreme care – focussing on your Client Profiles, your non-negotiables and your ambitions we will compile a curated list of key prospects and facilitate introductions, in line with key Marketing activities also.
Marketing
Marketing support through our Hybrid package can be utlised either as an addition to your inhouse team, working symbiotically to a single goal; or as a standalone agent focussed on specific deliverables.
Over 12 months, the Marketing strategy on Hybrid is designed to complement existing activity, whilst focussing on supporting the growth plans of the Sales strategy also.
Depending on the genetics of your organisation, a typical Hybrid offering may include:
4 case studies a year – including interviewing your chosen subjects, review and release to relevant portals.
3 e-newsletters per year – these can be targeted in a single campaign or as general communications to your mailing lists. We can create content, design elements, even build and mail the template if you require us to.
Awards Submissions – whilst we cannot guarantee you will win, we can guarantee you quality award entry submissions! We have the skills inhouse to capture the essence of your organisation's award-winning potential and convert it to an entry you can be proud of!
Social Media Management or Support – in line with the Sales Strategy, we can help design and create engaging social media posts to target your areas of opportunity – that may be raising your brand visibility, narrating the benefits of working with your company or stabilising reputation in new markets; the possibilities are endless! (max. 2 posts per week, max. 3 channels).
ESG & Social Responsibility – how do you care for your team, environment, communities? Social Responsibility is a huge part of our professional lives and it is crucial that companies are actively engaged and promoting best practice too. We can support the design and delivery of a high-impact engagement strategy that will benefit your teams, your company and the worlds around them.
Contact us today for an informal chat. Hybrid is offered at £2,950 + VAT per month.
Do you need additional  support or services? We work with a team of Associates; companies who we trust to deliver the very best for our clients when their need is beyond our inhouse team's core skill. Talk to us today for a referral.